Wigged by Sue specializes in custom wigs. I provide high quality wigs of all different types and sizes. My goal is to provide wigs to support protective styles that encourage healthy hair growth. All wigs are hand sewn for stability but also includes clips/combs for extra security. My wigs are designed to look natural and flawless so no one will know you're wearing a wig. With the custom wig option, you have total control over your wig design. You decide your own texture, length, color, and density. Or, you can choose from one of my custom made units by ordering online. With either option, you won't regret it. So what are you waiting on? Every Queen deserves to get Wigged. Wig your life up and get Wigged by Sue.
Contact info:
Wigged by Sue provides glueless wigs are easy to wear and natural looking. Glueless wigs are applied without any use of glue, it has lace at the front and weft hair at the back, 1 comb at back and both sides, adjustable strap at the back for a comfortable fit on your head. You can remove glueless wig at night to let your hair breathe and reinstall in the morning.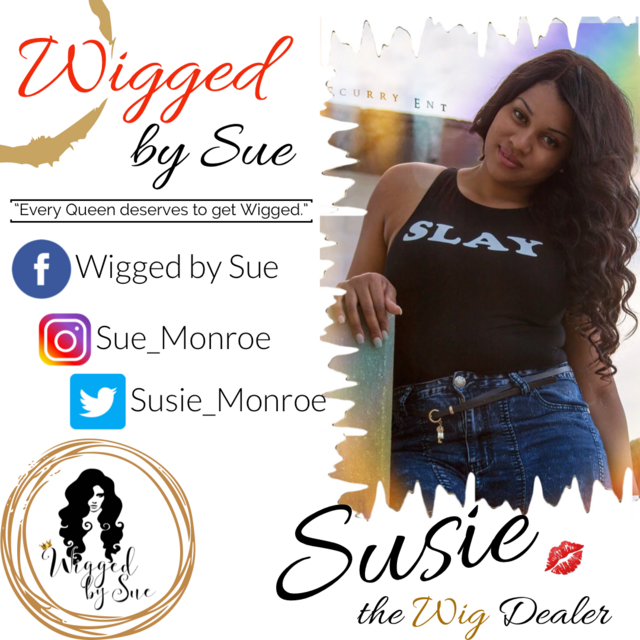 About Me
My name is Nurissa but I live through my alter ego Susie Monroe. I consider myself as a wigpert. I have been wearing wigs since the fall of 2015. Since my first wig, I have not worn another sew-in. I am completely obsessed with wigs. As a young girl, I spent all of my time playing with dolls and doing their hair. I get the same sense of enjoyment when I am making my units. Making wigs is definitely a hobby I love and take pride in doing. Most importantly, I love promviding a product that makes others feel good about themselves. Your hair is your best accessory; wear it well.
Love Sue
Connect: INSTAGRAM | FACEBOOK | TWITTER | YOUTUBE